We Have a Variety of Materials
Available to Build Your Project
Every tank we manufacture is unique and requires its specifications for design and materials to be used. With over 40 years of experience building custom tanks, we have the knowledge and expertise to work with various materials. For example, we have well over 60 weld procedures for welding many different materials, such as SA-516-70/N (qualified down to -50F) and stainless steel 304/L and 316/L (qualified down to -325F).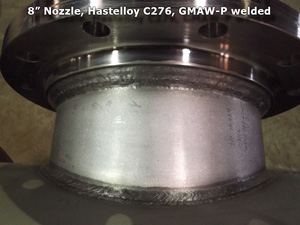 Hastelloy B2 B3 C276 C22
Nickel 200 201
Monel 400
Inconel 600 625
Incoloy 800 825
Duplex 2205
254 SMO
ALLOY 20
Technology Makes a Difference
Since every project we manufacture is custom, we must be flexible enough to work with these various materials and tank specifications. Our available capacity on site and the technology we utilize allow us to meet the demands of our clients. We use various types of technologies for our manufacturing process. This welding equipment allows precise control of process parameters to weld on various materials in virtually any application.